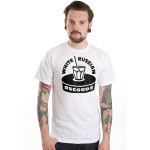 A few weeks ago we shared our new logo, designed by Pankra, with all of you. They posted an image on our Facebook page, with some examples of how the logo could be used. One of the examples was a dude wearing a shirt with our logo. We liked it.
And so did you! We had a ton of people asking us where and when they could buy it!
So, we can see this whole supply and demand thing getting somewhere, and we'll gladly join in. We'll make some shirts. We'll sell 'm to you. We're gonna sell 'm for 10 euros (we think that's a fair price for a shirt, right?), but as a small thank you to everyones support, and because we're a sucker for pre-orders, we'll be selling it for only 8 euros all throughout November.
The orders will be shipped by the end of the month, so you all have them in time to wrap up or wear them during December's festivities.
Oh, you can find them in our store obviously.
We might throw in some free goodies too!

! UPDATE – SHIRTS WILL SHIP DECEMBER 5TH !