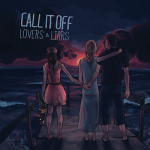 Great news for pop punk lovers: Call It Off released a brand new video in anticipation of their upcoming full-length Lovers & Liars. The high energy song Forward Or Crazy is one of two previously unreleased songs featured on the new record Lovers & Liars that will be released on February 2nd 2015.
The full-length is a combination of two previously released EPs that gained over 50,000 plays on Spotify in a year and spawned singles that racked up over 65,000 plays on YouTube. Apart from containing two brand-new songs, Lovers & Liars has been remastered in its entirety by the famous Troy Glessner (Neck Deep, Propagandhi, MxPx) making it a must-have for all. Lovers & Liars will be available digitally, as well as on CD and limited colored vinyl (including a digital download code and lyric sheet) through White Russian Records (NL) and I For Us Records (BE).
On December 2nd the band will perform with New Found Glory at Tivoli, Utrecht.
This show will include a one-time only 'Lovers & Liars' pre-sale!
For more info, and to win tickets go check out the Call It Off facebook page.
And now get ready and watch the new Forward Or Crazy video here:
Lovers & Liars pre-orders will be available on December 10th via our webstore.