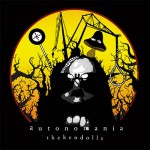 The great people of Punktastic are having something special in store for all lovers of The Kendolls. Or for all lovers of goddamn good loud rock'n'roll music!
If you head over to their page now, you can stream the entire new album "Autonomania" for free!
Go ahead and enjoy it while you can, and we'll continue getting a great pre-order store set up, which we'll launch within a few days.
The record comes out October 21st, and the band will play a bunch of shows around the release too, so mark your calendars!
OCT 21 – THE PITCHER – DUSSELDORF (DE)
OCT 22 – WINSTON – AMSTERDAM (NL)
OCT 23 – AZIJNFABRIEK – ROERMOND (NL)
OCT 24 – DE ENGEL – DEN HELDER (NL)