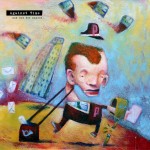 Here's an absolute classic punkrock record from our own country; Against Time's beautiful album "And Not For Anyone". Back in the day only available on CD, but thanks to the awesome label 'La Agonia De Vivir' it's also available on vinyl now!
We knew Bram is a big fan of the band. Hell; we've seen him play with them with a smile so big, we thought he was gonna pass out. So naturally we asked him to tell a little bit about this classic.
Here's Bram's story! (For those of you wondering who Bram is. Bram played bass for March, and can be heard on their EP's "In The Air" and on the full length "Stay Put". He also creates awesome videos like our promovids for Eurosonic showcases, and the latest Travoltas lyric video!)
Like what you read? Grab a copy in our store, or from the original label and support them!
This record and I go way back. I have literally destroyed 2 copies of this amazing record on CD, that's how much I've listened to it back in the days.

Nowadays we have Spotify, and I still give it a spin now and then. It never gets old!

The day 'Against Time' called it's quits, a lot of us skating punkrockers were very disappointed.

Luckily I had the chance to rock with Ivo, Kees and Justin in 'July Knives'; a band spawned from the ashes of 'AT'. After that, Ivo, Kees and me played in 'All On Black' and I was very honored to fill in for Michel on bass on one of the 'AT' reunion shows!

'And not for anyone…' has some of the fastest, finest and best written melodic punkrocksongs and even though I love a lot of other punkrockbands, there has never been an album that stuck to me like this one did. Every live show was action-packed: Michel's great bassplaying dancemoves, vocalist Ivo jumping all over the stage like a maniac, two awesome guitarplayers (Justin and Tjirk) and one of the fastest drummers I have ever met (Kees blew my mind with his single pedal fastness).

If 'Against Time' would still be a playing band nowadays, they would have fit nicely on the White Russian bill. It's great to see such devoted people bringing this record to our old, dusty record players. Now let's hope their second album 'Never Forever' will be next 😉