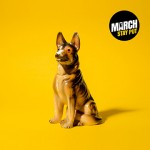 In June 2016, March released their full length debut "Stay Put". Right the first time we heard it we were fans. It's a fantastic album and we're very proud to have released it.
It's been great seeing the band getting so much attention and being able to play so many shows – and with a UK trip coming up and a new video, it's time to make 'm album of the moment!
We asked singer Remco (Note to Amy) to tell us why he thinks this is such a great album – which you can read below.
If you wanna judge for yourself; it's out digital, and in our store you can get it on CD/LP – and because it's album of the moment, we'll give you a nice discount! Check it out CD here and the beautiful 12″ vinyl here!
In my opinion, 'Stay Put' is one of the best albums ever made by a Dutch punkrock band. It combines raw, loud,  snotty, straight forward punkrock with great songwriting. What's not to love?

I think it was somewhere at the end of 2013 when my (band)buddy and WRR's own Brett Gurewitz, Eelco Klein Overmeen called me up: "You know MARCH, that new band from Thomas from New Pokerface, they've just send me their first E.P. and it totally kicks ass." He send me one of the songs (I think it was 'In The Air', which in fact has one of my favourite choruses ever). I was blown away and an instant fan.

As you can imagine, I couldn't wait for their first full lenght. When it finally came out in june 2016, it even topped my expectations. The've added an extra guitar player which made their sound a little bit thicker. The new songs also are a little more melodic but still pleasantly abrasive. Singer Fleur again sounds like she just attented 5 Groezrock festivals in a row, with blood and anger spattering from her vocal chords (but that few times she takes a step back, her voice almost reminds me of Concrete Blonde's own Johnette Napolitano (which is awesome)).

From the opening song 'Head Shears' until the closing song 'In Vain', the album sounds energetic and pissed without ever losing its positive vibe. Stand outs are the juggernaut 'On the Chin', the mid-tempo stomper 'Stand in Line', the 'there's punkrock in the spring air anthem' 'Dead of Night' (the vocal line on 0:38, 1:21, 2:17 and 2:26, holy crap!), the punkrock love song 'Sometimes' (once again a chorus that I would sell my grandma's soul for) and the grungy closer 'In Vain'.

I think this is an album that will keep on finding its way to my record player and iPod years from now, leaving dents on the ceiling, the roof of my car and on my soul. Just like a classic punkrock album does.