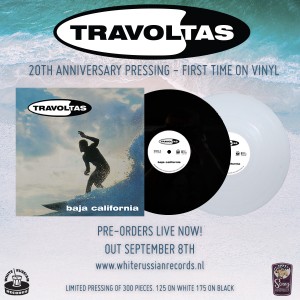 Earlier this year, Dutch band Travoltas returned to the poppunk front with their first new full length "Until We Hit The Shore" in thirteen years. Their first release on Dutch label White Russian Records showed that Travoltas still are the kings of poppy, catchy upbeat tunes – and the album was received with raving reviews, praising the songwriting and importance of the Beach Boys and Ramones influenced punkrock band.
In July, their first hometown show since their reunion tour in 2014 proved the importance of the band; in a packed & steamy hot venue, the band ripped through a set list of classic songs and new material – with the audience singing along to every song. Old and new.
For those fans there 's a treat; on the 20th anniversary of the Travoltas debut full length album BAJA CALIFORNIA, the album will finally be released on vinyl.
A very limited pressing of 300 copies (125 white, 175 black) will be released by their new label White Russian Records, in kind cooperation with My First Sonny Weismuller Records.
In September the band will be in The Netherlands for two sold out shows in Amsterdam and Den Bosch, as Special Guests of punkrock legends Undeclinable Ambuscade, who will play their last two shows.
Travoltas career highlights include performances at SXSW, Lowlands, Dynamo Open Air, touring & recording with Marky Ramone, label deals with CNR and RoadRunner Records, sold out Beach Boys tribute shows, festival appearances at major festivals all over the world, extensive European tours, an extensive US tour with Warped Tour dates, a Japanese tour, a Beach Boys tribute album and a vast output of singles, videos and 8 full lenghts.
Pre-order you copy in our webstore!
The albums *SHOULD* be in before the bands' shows with Undeclinable Ambuscade in September. If you're planning on going to the shows in Den Bosch or Amsterdam – select 'local pickup' when checking out and you won't be charged shipping and can pick up the record at our booth.