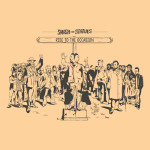 Throwback to 2014….
My dear friend Tom visited me for a beer or two and told me Smash The Statues were recording new music. That news was exciting cause STS was dead at that point (they had broken up almost three years before that), I always loved their songs and they always had a special place in my heart as I filled in on guitar and bass a few times for them.
In the end these four tracks made an awesome 10″, and of course STS wouldn't be STS if they wouldn't donate money of it to Stichting Gast. The artwork is insanely cool, and there's an awesome etch on the b-side. Great record, and very happy to have it on our label.
I remember they threw a great release party at ACU Utrecht and I still love putting this record on the player every once in a while. So; time to make it record of the moment!
We asked Florian Krijt to tell a bit about it. I know he's a fan, and he's the one responsible for the awesome artwork! – Eelco
When Tom from STS came to me asking whether I'd be down to do the artwork of their upcoming reunion related record I got so stoked! I mean, amidst everything that was out there back in the day, they were one in a million whom introduced me to a completely different scene, in which I met so many awesome friends and family, I still happen to scream along with from time to time. So like a little "older" kid with pencils and ink, I came up with the artwork built upon their concept and ideas, as to which I am still grateful for having a chunk of my heart and name etched into it. So give their record(s) a good ole whirl and say "OEH!" – Florian Krijt
Curious how this album sounds? Check it out below!
Wanna get your hands on that 10″? No problem. We discounted it and it's up in our store for only 5 euros! And yes. The one euro from every sale will still go to Stichting Gast.