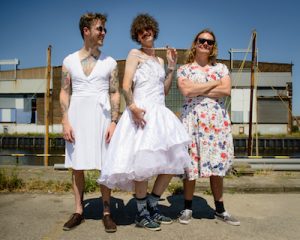 We've known the bandmembers and their other/previous bands for years – so when we found out they got together to perform as Switch Bones and heard the 2017 released EP "Machine In Me", we were hooked!
We couldn't be more proud of them joining our little family – it's a hard working band with a ton of experience in bands like Undeclinable, One In A Million, Cooper, Tarantino and BluefisH and their songs are catchy but raw. Influenced by bands like Nirvana, Melvins and Queen Of The Stone Age this threesome knows how to rock – and we'll bring you their debut full length on September 28th! More info on the album and pre-order options will follow soon.
To celebrate, the band just released a brand new video for "Scream Some More", which you can watch below.