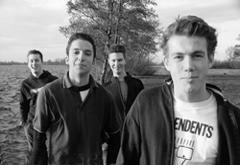 Damir – Vocals
Jeroen – Guitar
Roddy – Bass
Joris – Drums
Spring 2000 saw Jeroen and Joris founding the band AllunderAge, and soon recruiting Roddy and Damir.
With them an endless search for a good fitting name followed, and finally was concluded by picking the name AllunderAge, a funny reference to the age of the four members at that moment (all members hail from 1985).
Once the band started to write their own material it entered a handful of bandcontests and won some regional prices, that eventually lead into the recording of two demo's, one of them saw the face of day in 2002, titled Don't Know What It Stands For.
This EP got thme further on the road; great reviews followed and with that came the shows.
Tight and energetic shows that got the crowd going at shows with Human Alert,Undeclinable, NRA and The Apers, which eventually lead to AllunderAge opening at the Atticus-tour for Rise Against and Tsunami Bomb in Amsterdam earlier this year.
Now they're here with their first full-length containing 12 songs, full of aggression, catchy hooks, swinging riffs and fast paced punkrock, released on White Russian Records.
Recorded and mixed in the Bunts Studio by Menno Bakker, who earlier was there at the start of the career for bands as Heideroosjes, Undeclinable and NRA, this full-length debut will mark a new era for this talented band.
No Jokes, No Funny Stuff was mastered at West West Side by the legendary Alan Douces, who is well known for his rocking mastering-jobs for bands as Converge, Against Me, Hot Water Music, Alkaline Trio and Strike Anywhere.
The band split up in 2006, to reform for a one off reunion show in 2007.
Guitarist Jeroen is currently playing in Frightening Fiction and Bratpack.
White Russian Releases
2005 – No Jokes… No Funny Stuff – Album page
2006 – V/A – Change The Station II – Album page
Other Releases
2002 – Don't Know What It Stands For (Self released)
2006 – V/A – KMDG DVD (Reload Magazine)
2007 – V/A – Rock Against Cancer (Sikotick Records)
Listen/Buy