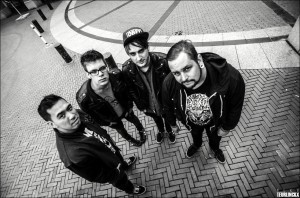 Maurice – Vocals / Guitar
Adrian – Vocals / Guitar
Lesley – Bass
Sergei – Drums
There are a lot of bands that don't want to be labeled. They'll bring up combinations of influences and obscure references in order to stand out. Call It Off is not that kind of band. Hailing from Eindhoven, the Netherlands, this four piece recharges the energetic catchy three-chord punk pop, popularised by bands such as Alkaline Trio, Green Day, Blink-182 and many more.
White Russian Releases
2013 – Lovers – Album page
2014 – Liars – Album page
2015 – Lovers & Liars – Album Page – Buy CD/LP
2016 – Anesthesia – Album Page
Listen/Buy

Video
https://www.youtube.com/watch?v=sL0OTMhg7kw





Visit