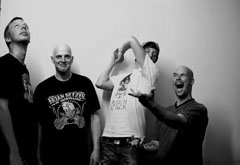 Roelof – Vocals
Henri – Guitars
Jozua – Bass
Klaas – Drums
… a band to keep an eye out for in the near future (3voor12 Den Bosch)
This rocking indie/hardcore band exists since February 2007. Combining the 'drive' and the 'feel' of bands like Fugazi, Face Tomorrow, At The Drive-in and Refused, the band has created their own style, making them an absolute must hear and see for every music lover.
In their first year of existence Discourse Avenue played over 20 shows with (amongst others): From Autumn To Ashes (usa) @ Tivoli de Helling, Failsafe (uk) @ Groene Engel, Giving Chase (usa), Astpai (aut), Dimitrij (aut), Worlds Between Us (aut), All on Black (ex omission & razor crusade), The Real Danger and Union Town.
White Russian Records decided to team up with the band, being impressed by their songwriting capacities and energetic live performances.
In April 2008 White Russian Records released the bands first EP, entitled November march, shortly followed after their appearance on the label's compilation album Change The Station III.
The band split up and moved on to other projects. Singer Roelof is currently the singer in Screw Houston.
White Russian Releases
2008 – V/A – Change The Station III – Album page
2008 – November March EP – Album page – Buy
Other Releases
2008 – V/A – Still Thinking 2 (Still Thinking Records)
Listen/Buy