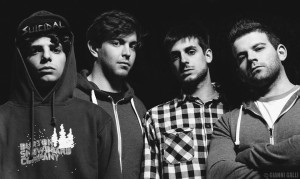 Codini Andrea – Vocals / Guitar
Tommaso Galli – Bass
Simone De Vivo – Vocals / Drums
Alessandro Biolchi – Vocals / Guitar
Punk rock, a hint of melodic hardcore and some thrash influences. there's no clearer way to describe Italian band LineOut, hailing from Milan.
The band debuted in 2012 with their EP "Volume Up!" and  hit the road to do three European tours and over seventy shows. LineOut has shared stages with bands like Mute, Vanilla Sky, The Menzingers, Useless ID, Astpai, Authority Zero and Counterpunch. They were also a very welcome guest and played a memorable set during the big Slovenian festival "Punk Rock Holiday" in 2013, sharing the stage with Millencolin and Suicidal Tendencies. 2013 ended in a great way; the band supported Atlas Losing Grip during their Italian tour, consisting of 10 shows.
With the help of Atlas Losing Grip's Gustav Brunn, the band recorded the full length "Guardians Of Punk Rock". A thirty minute showcase of great musicianship and songwriting; showing that punk rock is well guarded by this bunch from Milan.
The record was released on September 6th 2014 in cooperation with White Russian Records (NL), Lockjaw Records (UK) and NoReason Records (IT).
White Russian Releases
2014 – Guardians Of Punk Rock – Album page – Buy CD
2017 – Blast In Turbigo – Album page
Listen

View

 Visit
Facebook