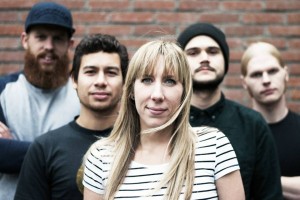 Heleen Tichelaar – Vocals
Nangko Verboon – Guitar
Willem Jan Keddeman – Guitar
WD Glashouwer – Bass
Pieter Tjeerdsma – Drums
With members of Manu Armata and former members of bands such as Nom De Plume and Midnight Menace, Ravenna means business.
Combining sturdy guitars with compounding melodies and sharp lyrics, Ravenna managed to find and produce their own style of female fronted punkrock, culminating in a 5-track EP named "Reload, Erase". After two years of demonstrating their power and passion on the live stage
supporting bands such as Tonight Alive and H20, they're back with a vengeance, presenting
their new full-length album 'Hearts Under Fire'.
Continuing on their earlier path, Ravenna combined their love for melody and sharp
bouncing riffs, mixing it with strong lyrics tackling modern subjects. Now that the record is
done, Ravenna is ready to hit the stage, hard.
White Russian Releases
2016 – Reload, Erase – Album page – Buy CD
2017 – Emergency – Album Page
2018 – Hearts Under Fire – Buy CD
Listen
 
Watch