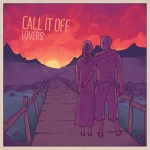 Cat Nr: WRR016
Artist: Call It Off
Title: Lovers
Release: September 20th 2013
Format: CD / Digital
A brand new dutch pop punk band, hailing from Eindhoven. They got together due to a mutual love for punk pop, started writing songs, and within weeks went into the studio to record their debut EP "Lovers", with Jasper van den Broek (Wasted Bullet).
Five catchy punk pop tracks that might make you wanna grab a skateboard, long for the sun and sing along loud as fuck.
This EP will mark the kick off of a tour that takes them thru various European countries, playing with bands as The Story So Far, Verus You and Fighting Fiction.
Tracklisting:
1. Do It All Again
2. Dyanne
3. The American Lie
4. Better Off Dead
5. What She Said
Listen

Video