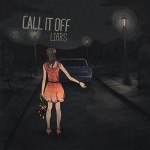 Cat Nr: WRR020
Artist: Call It Off
Title: Liars
Release: March 14th 2014
Format: CD / Digital
Dutch poppunk formation Call It Off is to release a new EP called Liars this March. Despite their short existence, Call It Off have proven themselves worthy time and again. Their first EP Lovers was picked up by Punknews.org and Visions.de and was received very well in the media, which landed the band a European tour, a deal with White Russian Records and over 30.000 views on YouTube, as well as opening spots for Iron Chic, The Wonder Years, Real Friends and The Story So Far.
Liars will continue on the path paved by Lovers, meaning a record full of catchy hook-laden poppunk songs, making Call It Off more than ready for the upcoming festival season.
Tracklisting:
1. Famous Last Words
2. Burning Bridges
3. Stuck With You
4. I Don't Wanna
5. Call Me
Listen

Videos