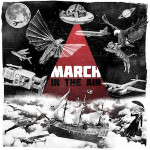 Cat Nr: WRR024
Artist: March
Title: In The Air
Release: March 21st 2014
Format: Digital
MARCH, a punkrock trio from Breda, The Netherlands, will release their firstborn on March 21st through White Russian Records.
"In The Air" was recorded by Dennis Boot, and mastered by Jochem Jacobs (Split Second Sound), and hears the band ripping thru five songs, demonstrating the talent for writing great punkrock songs that combine energy, enthusiasm and catchiness into a raw punkrock format!
Not too strange the band got themselves on the bill for the prestigious Breda Barst Festival and the second edition of Bastard Fest within their first six months of existence!
If you like raw punkrock in the style of Off With Their Heads, Alkaline Trio, Hot Water Music and some Distillers; you're in for a treat!!
Tracklisting:
1. Forward
2. Hendrik Lucifer
3. Equals One
4. Seven Of Swords
5. In The Air
Listen