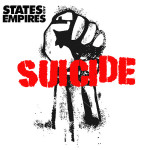 Cat Nr: WRR025
Artist: States and Empires
Title: Suicide
Release: April 8th 2014
Format: Digital
Influenced by early 90s grunge, States and Empires manage to seamlessly blend instantly memorable, melodic hooks with pummelling drums and massive guitar riffs that have the capacity to pack as much of a punch in an arena as they do in a club. It's incredible to think that three people can create such a powerful sound.
The band's blistering live performances have already created a huge buzz across mainland Europe with the band racking up over 50 live gigs by early 2014, including 2 sold-out tours with Californian pop-punks Zebrahead. Their German fanbase in particular is gaining momentum and has earned them a place on John Coffey's tour at the end of April. The band precede this with a handful of UK headline shows.
Tracklisting:
1. Suicide
Listen
View