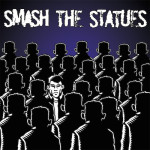 Cat Nr: WRR027
Artist: Smash The Statues
Title: Against The Stream
Release: February 5th, 2006 / April 21st 2014 (Digital)
Format: Digital
Influenced by bands as Propagandhi, Good Riddance, Strike Anywhere and I-Spy, their melodic hardcore punk, dealing with topics of social change, the band recorded their first full-length "Against The Stream" with Nico van Montfort, who would later join the band as a permanent bass-player. 
"Against The Stream" was released by Angry Youth Records on CD in February 2006, and met with positive reviews in magazines and ezines worldwide, and gave the band the opportunity to support genre defining bands like Strike Anywhere, Strung Out, Beatsteaks and Modern Life Is War. Smash The Statues started expanding their territory, and did various tours throughout Europe, hitting Belgium, Germany, United Kingdom, Sweden, Norway, Austria and Slovenia.
White Russian Records is now making this great piece of Dutch melodic hardcore punk history available digital for the first time.
Tracklisting:
1. Do You Want A Personality To Match That Uniform?
2. A Better Place Pt. 3
3. The Stream Of World Decay
4. 175564
5. The Interlude
6. Useless Slaughter Of The Defenseless
7. Made New Friends
8. Killed By You
9. La Nona Ora
10. International Crimes
11. Anger Management
12. Lee Kyung Hae
Listen