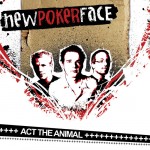 Cat Nr: WRR054
Artist: New Pokerface
Title: Act The Animal
Release: December 10th, 2006 / April 26th 2016 (Digital)
Format: Digital
Debut EP of Breda three piece "New Pokerface". Uptempo punkrock for fans of Propagandhi, Rise Against and Good Riddance.
White Russian Records is now making this great piece of Dutch melodic hardcore punk history available digital for the first time.
Tracklisting:
1. Act The Animal
2. Pass Your Goals
3. The Architects
4. Man vs. Man
5. Different Straight Thinking
6. Again And Again
Listen