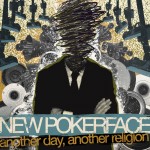 Cat Nr: WRR055
Artist: New Pokerface
Title: Another Day, Another Religion
Release: July 4th, 2008 / April 26yh 2016 (Digital)
Format: Digital
First full length album of New Pokerface, recorded at the legendary Split Second Sound studios.
A true classic and one of the best punkrock records to ever come out of The Netherlands.
We are very stoked to be re-releasing this in digital form 8 years later!
Tracklisting:
01.Polarities
02.Not Ready
03.There's No Them
04.A Song Of Loss
05.Quit Old Habits
06.Coldest Day In Spring
07.Ignites My Fuse
08.For A Cause Again
09.What We've Always Been
10.Trapped
11.Heaven Said
12.Break Walls
13.Seconds In An Hour Of Goodbye
14.Alchemic
Listen