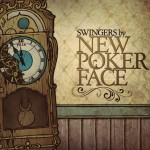 Cat Nr: WRR056
Artist: New Pokerface
Title: Swingers
Release: April 29th, 2011 / April 26th 2016 (Digital)
Format: Digital
Third release by Breda punkrock band New Pokerface.
First time as a four piece, making the songs more versatile and melodic. Sadly the band broke up after this record, but we're very happy to be releasing this in digital form finally!
Tracklisting:
1.Close Your Eyes
2.Darlington Park
3.Drowning
4.Saints & Sinners
5.Homecoming
Listen