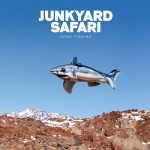 Cat Nr: WRR061
Artist: Junkyard Safari
Title: Done Fishing
Release: September 9th 2016
Format: Digital / CD
The band's follow up to 2014's full length album "Zoologica".
"Done Fishing" contains four rocking tracks, that shows the bands strength to play those songs that make you long for the 90's. Backwards caps, skateboards, skates and baggy jeans.
If you dig Lagwagon, Strung Out, Pulley and the likes, be sure to check this one out!
Tracklisting:
01 – Superpowers
02 – Next Chapter
03 – Done Fishing
04 – Ever Since We're Done
Listen

Watch