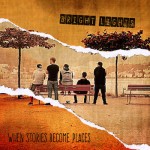 Cat Nr: WRR064
Artist: Bright Lights
Title: When Stories Become Places
Release: November 19th 2016
Format: Digital / CD
Debut album of the Swiss band "Bright Lights". Influenced by pop punk, punkrock and a bit of early 2000's emo, the band delivers an extremely strong debut.
A Journey through the mind of vocalist Silvio with the help of Ralphs anecdotes, catchy guitars and booming drums.
Tracklisting:
01. When Stories Become Places
02. Hide Out
03. Attitude Sickness
04. Here And Now
05. Overwhelmed
06. Silver Lining
07. Day By Day
08. Burning Mind
09. Singularity
10. Odds And End
11. Something Bigger
12. Raise A Glass
Listen