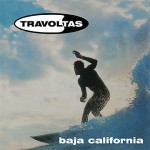 Cat nr: WRR075-1
Artist: Travoltas
Title: Baja California
Released: September 8th 2017
Travoltas' classic album from 1997. Their first full length debut, and the one that kicked off their insane career. For the first time ever pressed on vinyl, in a limited edition of 125 white / 175 black.
Thanks to the kind folks at My First Sonny Weismuller Records.
Tracklisting
1. Truck Stop Motor Lodge
2. Ron Johnson, Audio Consultant
3. Waimea
4. Baja
5. Go With Me, Take My Hand
6. All Alone To The Senior Prom
7. Chased By The Waves
8. Monstertrucks
9. Schoolyard Blonde
10. I Shop, Therefore I am!
11. Valley Girl
12. Here Comes The Summer