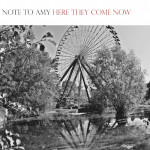 Cat Nr: WRR037
Artist: Note to Amy
Title: Here They Come Now
Release: October 30th 2014
Format: CD/DIGITAL
'Here They Come Now' is the second single taken from the album 'Life Is Not Enough'. The cd version contains the b-side 'Going Down'. A single release was accompanied by a great music video that sees the band rocking.
'Life Is Not Enough' is the follow-up to the Note to Amy's 2011 debut 'Midnight Arsons/Morning Ghosts'. As with the first record, the band's second album was produced, mixed and mastered by Jochem Jacobs (ex-TEXTURES) and Bouke Visser at Split Second Sound in Amsterdam. Compared to the first album the new material shows more of the band's love for punk rock, without losing its trademark sound. The album will be a heavy, energetic, up-tempo, organic sounding and melodic portrayal of rock music with a unique level of catchiness.
'Life Is Not Enough' will be available on CD and limited edition colored vinyl. The vinyl version of the album will have a vinyl-only bonus track.
Tracklisting:
01 Here They Come Now
02 Going Down
Listen

Watch