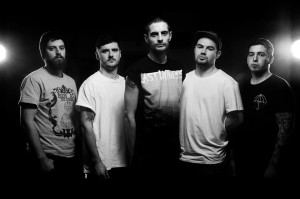 Joe Kibble – Vocals
Nathan Davies – Drums
Jake Morgan – Bass
Nick Lewis – Guitar
Formed late 2011, from the Forest Of Dean, Gloucestershire, UK, Black Art are a 5 piece punk and roll band.
After releasing two EP's in 2012; "High, Just​-​as​-​High, And Third" and "Dashed Hopes & Broken Fingers", 2014 saw the release of the single "Deceiver" and a 7" split with UK band Surrender The Coast. Not a band to slow down, a brand new six track EP. "Full Lungs & Empty Words" is set for release in September 2014, on CD and tape, and will be released by I For Us Records (BE), White Russian Records (NL) and Let Them Die Records (UK). The band follows up the release with a European tour. The EP shows the bands ability to combine hard hitting hardcore punk, combined with a loud rock and roll vibe, which appeals to fans of bands like The Ghost Of A Thousand and The Bronx.
Having supported Your Demise, Last Witness, Palm Reader, Dead Harts, Desolated and many more in their short time as a band the guys have also played a number of big festivals such as 2000 Trees. Since the start the band has relentless toured in and around the UK and Europe with bands such as Our People Versus Yours, Black Art and Weathered Hands. Renowned for their vicious live performances and punk anthems this is not a band to be missed.
There is nothing fake about Black Art, what you see is what you get.
White Russian Releases
2014 – Full Lungs & Empty Words – Album page – Buy CD / Tape
Other Releases
2012 – High, Just​-​as​-​High, And Third
2012 – Dashed Hopes & Broken Fingers
2014 – Deceiver
2014 – Black Art / Surrender The Coast – Split
Listen/Buy
Watch



Visit
Facebook