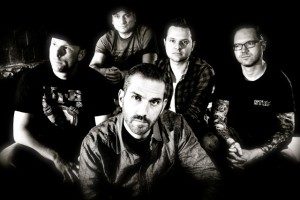 John-Paul (Polle) – Vocals
Sebastien – Guitar
Maurice – Bass
Tom – Guitar
Paul – Drums
Everything you heard about Colors Dead Bleed is true. This is the band that brings together members of Tech-9, Between The Lines, Human Demise and The Butcher.
Colors Dead Bleed brings melodic hardcore with a sense of danger and beauty to the scene. While their sound offers echoes from illustirous past, their music is forward looking and truly fresh in every sense of the word.
Their explosive debut "Heritage" marks the spot for this hard working band of hardcore brothers. The band successfully unites its infamous past with an even more promising future, resulting in shows with Ignite, Slapshot, Funeral For A Friend, Bouncing Souls, Every Time I Die and many more.
Second album "Breath Of A Ghost" is a hardcore classic for both old and new generations. After sampling a number of producers, the band opted to go with Eric Klinger (ex Pro-Pain & Spudmonsters). The album stands strong on its own reflecting influences of Sick Of It all, Comeback Kid and Stick To Your Guns.
Colors Dead Bleed looks forward to the release of their upcmoing album on White Russian Records spring 2016. The band is truly siked to hit the road and play every dirtbag club, venue or festival out there, bringing their new album to a mosh pit near you!
White Russian Releases
2014 – Heritage – Album Page – Buy LP
2016 – Breath Of A Ghost – Album Page – Buy CD

Listen/Buy

Video
[embedyt] http://www.youtube.com/watch?v=hFlolB9GgNQ[/embedyt]
https://www.youtube.com/watch?v=JbvS7XBaXcQ

Visit
Facebook