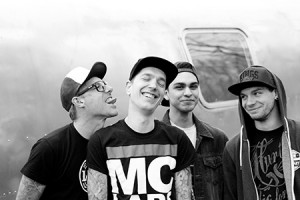 Per Ole Baumert – Vocals / Guitars
Kim Barthel – Bass
Bruno Aguilera – Guitars
Andreas Klassen – Drums
Holly Would Surrender, the poppunk band from Hamburg, Germany – is about to release the follow up to the 2013 album "The Great Escape", released on Monster Artists.
The digital version of "Kaleidoscope" will be released by Acuity.Music, the physical products – CD and limited edition yellow vinyl – are handled by Dutch label White Russian Records.
Since the inception of the band early 2010, and the EP "Past Crimes – Hard Times" the same year, the band has been playing their songs all over Europe.
Inspired by the likes of Blink182, NOFX and New Found Glory, the four piece deliver a varied poppunk record with their new album "Kaleidoscope". A fitting title according to the band.
"We couldn't have chosen a better album name as you can find exactly the variety of a rotating kaleidoscope in the songs. The lyrics are much darker than before, due to personal changes in Ole Baumert's life. But the energie of melodic hymns and catchy choruses get the songs stuck in your head.".
With the lyrical help of Joe Ragosta (Patent Pending) and guest vocals by Tony Lovato (Mest), MC Lars and Nick Diener (The Swellers) the album gets exactly the variation it needs to bump it from a great record to a really really great record. Add the unforgettable guitarsolo of Dan Palmer (Zebrahead) in "Better Off Alone" and you know we got a winner here.
Put the album on loud, kick back and bring on the summer!
White Russian Releases
2016 – Kaleidoscope – Album page – Buy CD / LP
Other Releases
2010 – Past Crimes, Hard Times
2013 – The Great Escape
Listen/Buy
Watch

Visit
Facebook