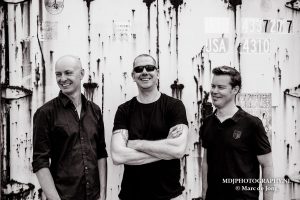 Ronald van Maren – Vocals / Guitar
Bob Hoorweg – Bass / Vocals
Jasper Blazer – Drums
What do you do when you've lived out all your dreams with your punk rock band? When you've made three records, played hundreds of shows and shared the stage with all of your heroes? Well…just keep going of course!
In 1994 I against I was founded in Dordrecht, a town in The Netherlands close to Rotterdam. Bob, Jasper and Ronald found the best way to get rid of their (teenage) energy was by playing up-tempo, melodic punk rock songs. Before they knew it they were the first European band ever to sign a contract with Brett Gurewitz's label Epitaph Records. A dream came true, since Epitaph happened to be home to all of their favourite bands.
Bill Stevenson and Stephen Egerton of the Descendents produced I against I's debut album Headcleaner which became a punk rock classic, featuring songs like Maybe Tomorrow and Nailed to the floor. In the following years two more records saw the light of day, and hundreds of shows took I against I throughout Europe, playing with bands such as Descendents, ALL, Down by Law, Bad Religion, Undeclinable Ambuscade.
Then, in 2008 the curtain appears to drop for I against I.Appears, because in 2017 the band is back as if they've never been gone at all. A classic case of "The more things change, the more they stay the same".
"Of course our lives are totally different now from when we just started" says bass player Bob Hoorweg. "Back then we were kids, now we have kids of our own. And jobs. And mortgages. And station wagons…" Singer/guitarplayer Ronald van Maren adds: "Because our lives have changed so much, we now feel the need to play music as an outlet more than ever before."
"That's why we now play with an intensity that wasn't always there in the past. But what's really priceless, is the fact that after all these years we are still the best of friends, still searching for that perfect song. That's worth more to us than any of our past achievements", says drummer Jasper Blazer.
On that note it is clear that this is not just a trip down memory lane. "We feel that our best work is yet to come, otherwise we would never have climbed on stage again. We're really excited to play our new songs live."
A new album is slotted for release in 2018. Does I against I have any other plans? Just keep going of course!
White Russian Releases
White Russian Records Sampler – Compilation – 2018
Small Waves – CD/LP – 2018 – Album Page – Buy CD/LP
Listen/Buy

Watch

Visit
Facebook