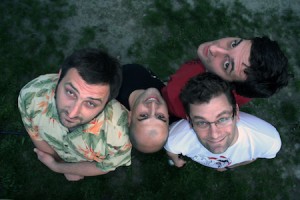 Damiano – Vocals & Guitars
Lorenzo – Drums & Vocals
Enrico – Guitar & Backing Vocals
Marco – Bass & Backing Vocals
Thanx 4 All The Shoes is a four piece band from Italy, born in 2006.
Musically combining skatepunk with some of the best of melodic hardcore, the band debuted in 2008 with their self released EP "Reaction Starts From Consciousness". The EP took them all over Italy, sharing stages with both national and international acts – and got followed up by the full length "Celebrating Falsity" in 2011 – released on Engineer Records.
It showed the band heading in a more mature direction, lyrically dealing with social topics and trying to reach the listeners consciences.
The 2014 released "This World Is Not Yours" once again showed the growth of the band, bringing more complex songstructures. A three year promotion of the album followed, including three European tours, a Japanese tour and slots on key punkrock festivals like Punk Rock Holiday.
A new album is now on the horizon, titled "Another Ride". Yet again another step forward, showing the years of hard work and playing did the band good. With an open mind and ear the band created ten songs in which influences from thrash, punkrock, old school hardcore and progressive rock go hand in hand with the strong melodies the band is known for.
According to the band the album is heartfelt, intense and the most genuine they've ever done.
The album will be released in cooperation of White Russian Records (BeNeLux), No Reason Records (Italy) and Disconnect/Disconnect (UK).
White Russian Releases
2017 – Another Ride – Album Page
Other Releases
2008 – Reaction Starts From Consciousness EP
2011 – Celebrating Falsity – Engineer Records
2014 – The World Is Not Yours
Listen/Buy
Watch

VisitFacebook