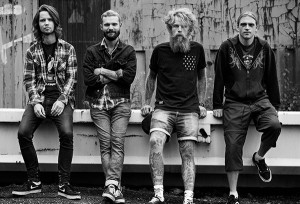 Oskar – Lead Vocals / Guitar
Anton – Guitar / Backing Vocals
Victor – Bass.
Kenneth – Drums
Formed in Gothenburg 2007, rock 'n' roll band The Kendolls bought a van in 08′ and started touring all over Europe. Playing filthy bars, squats, floors, clubs or festi­val stages wherever.Through touring the live show and songs were getting better and more chaotic.
The band signed with Alleycat Records in 2009 and went on a tour supporting american Baby Shakes across europe.
The Kendolls' debut album was released in the spring of 2011, followed by a Euro­pean tour and shows with Gallows, The Bones, Eddie & the hot rods, Michael Monroe and many more. In spring 2013 the band played 25 shows across Europe and released their second album "Dirty Dogma". New drummer Kenneth joined the band and recorded the 'Diablo Gringo' EP in the end of 2013.
The band signed with SOZ Concerts in 2015 and started doing more shows. Open­ing for John Coffey in Netherlands and Germany and for Honningbarna in Norway too name a few.
New album 'Autonomania' is a chaotic punkrock album with both garage, rock'n roll and hardcorepunk vibes.AC/DC, Stooges, Poison Idea and Slayer nerds alt in a blender. To be released in October 2015 through White Russian records/Byhfila re­ cords.
Let's bring back the madness brothers and sisters!
White Russian Releases
2015 – Autonomania – Album page – Buy CD/LP
Other Releases
2009 – The Kendolls
2011 – Jerking Class Era
2013 – Dirty Dogma
2014 – Diablo Gringo
Listen/Buy
Watch

Visit
Facebook