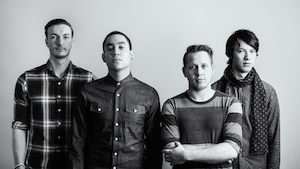 Camille Does– Guitars / Vocals
Maruli Heijman – Lead Guitars
Jasper Lausberg – Bass/Vocals
Bob Steur – Drums
"Alternating, dreamy and intense". Those words by Dutch UPMagazine after seeing This Morning Hour perform live are spot on. The four piece alternative band from Rijswijk, a small city near The Hague in The Netherlands, started out in 2013 with a strong drive to play honest heartfelt music without forgetting their punkrock roots.
The fresh and energetic pair of songs as found on their first released single "Lectures" w/ b-side "Guillotine Guilty" (2013) show parallels to Jimmy Eat World, The Dangerous Summer, The Starting Line and The Get Up Kids.
The band toured on their well received single for half a year, before deciding to head back to the drawing board and paint a bigger picture. That picture -A Stitch In Time- was painted with the help of Robin van Loenen -front man of Destine, producer of the last album by The 101's- and mastered by Jasper van den Broek, known for his recording and mastering jobs for The Lowest Standard, Call It Off and Wasted Bullet.
When asked about his influences when writing music, singer/guitarist Camille simply states "For me the biggest influence would be nature. Sounds weird but I get more inspired by a sunrise on a big open field with some pretty trees than any person or song. We all have a strong affinity with and grew up on punkrock music and many of it's subgenres."
The new EP -released on July 11th 2014 by White Russian Records- shows just that. Five songs that contain the beauty of a quiet sunrise in a wide open field filled with beautiful flowers and trees, but at the same time display a daring dark and energetic attitude.
White Russian Releases
2014 – A Stitch In Time – Album Page – Buy CD
Other Releases
2013 – Lectures – Self Released
Listen
Watch

Visit
Facebook