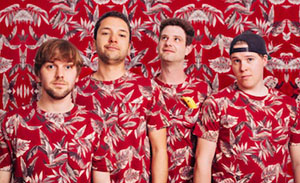 Damir Cicek – Guitars / Vocals
Gijs van den berg – Guitars
Roddy van der Weijden – Bass
Steven Tonnon – Drums
Erected from three long time extinct bands – 4Fridges, Stuck On The Bottom and AllunderAge – Junkyard Safari was born in to the jungle that's called punkrock early 2012.
All hailing from different backgrounds and parts of the country, the members of Junkyard Safari found a mutual overlap in homemade compilation tapes, mp3 playlists and cd collections. Fast paced 90's punkrock is the rocking foundation upon which Junkyard Safari builds its songs, peppered with anger, melody, rawness and even some sweetness.
The first release of the band, Zoologica, hatched in May 2014, and is a pleasent reminder to anyone who's ever found themselves in XL shirts, baggy pants and backwards cap at a Lagwagon, Bad Religion, NOFX or Good Riddance concert.
The ten songs that make up Zoologica were recorded between August 2013 and February 2014, and were mixed and mastered by Nico van Montfort at XPZ Sound (Antillectual, Smash The Statues, Harsh Realms).
Not necessarily looking for messages to share or an urge to shine a new light on the genre, Junkyard Safari is just doing that what it loves, and brings us a well known 90's punkrock with a good vibe.
In 2016 the band followed up their awesome debut by releasing a four track EP, "Done Fishing", which continues the path they started. 90's skatepunk at its peak.
White Russian Releases:
2014 – Zoologica – Album Page – Buy CD
2016 – Done Fishing – Album Page
Listen

Watch