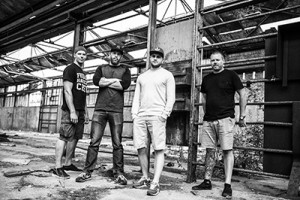 DoubleyouD – Vox
Easy E – Guitar
Heavy P -Bass
K2theJ – Drums
Dutch hardcoreband 'Manu Armata' profiles themselves as "From the heart in your face, since 2007", which is a pretty accurate way to describe the band.
With a 10th anniversary coming up, the band of friends (pretty much all guys have been playing together in bands since the early 90's), is certainly no stranger in the hardcore community.
A steady output of EP's on labels as 5FeetUnderRecords and Beatdown Hardwear, tours all over Europe -recently the band played France and Spain- and shows with the leading bands in the genre (Sick Of It All, Ryker's, Strife, Sworn Enemy, Pro Pain) – Manu Armata does exactly that what they claim to do. Play from the heart, straight in your face.
New EP "All I Have" contains six hardcore tracks that are the perfect follow up to 2014's "Surpass The Master" – which was received with great enthusiasm and raving reviews.
Once again recorded at "Double Impact Studios", the EP will definitely not disappoint fans of bands like Terror, Strife, Death Before Dishonor and Sick Of It All. A clear -yet heavy- production showing a enthusiastic driven band.
"All I Have" will be available on White Russian Records on October 15th.
White Russian Releases
2016 – All I Have – Album page – Buy CD / Digital
Other Releases
2007 – Demo
2010 – No Victory Without Strife – 5FeetUnderRecords
2011 – From The Heart In Your Face – 5FeetUnderRecords
2012 – Striking Justice / Idol Falls / 10Fold / Manu Armata – Split – Spook Record
2014 – Surpass The Master – Beatdown Hardware
Listen/Buy

Watch

Visit
Facebook