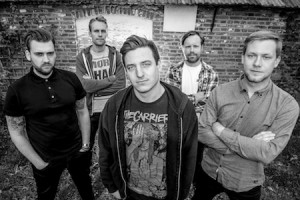 Roelof de Brouwer – Vocals
Matthijs Krikke – Guitars
Dennis Verschoor – Guitars
Anthony Hobo – Bass
Marc van Gastel – Drums
"Courage is what it takes to stand up and speak; courage is also what it takes to sit down and listen", a wise man once said. It's the same type of courage one needs in order to really change, whether it be a winning team, a winning formula or something as simple as a name. And that's exactly the kind of courage it took to the Dutch hardcore band Screw Houston to change one of its core elements.
The team didn't change. It's still the same five guys that have been working their asses off since February 2009. And it's still the same bunch of dudes that did over 100 shows altogether, all over The Netherlands, Germany, France, Belgium and Czech Republic with the likes of Touché Amoré (US), Pianos Become The Teeth (US), The Setup (BE), John Coffey (NL), Midnight Souls (BE), Fucked Up (CA), The Carrier (US) and The Tourist (DE). And got to play Incubate (2013) and Jera on Air (2014). And it's still the same people that released a self-titled EP (2009), the album 'When Trumpets Fade' (2011) and the EP 'A Gentleman Will Never Tell' (2014) that are about to unleash new album.
The formula didn't change either. Screw Houston plays hardcore the rocking way, a bit like Comeback Kid, Modern Life Is War and Gallows fire their guns. The musical direction slightly changed throughout the years. A little less rock 'n' roll and a bit more melody perhaps, but the vibe is still intact. And the energy levels are still up. And all the way to eleven.
What did change is the band's name. The group started out as Screw Houston, Start Screaming!, a name a bit lofty, and a bit long. People started using abbreviation SHSS right away, as well as more simplified versions of the name. So with this new record comes a new and shorter name: Screw Houston. No more Start Screaming. No more exclamation mark. Just Screw Houston, plain and simple. A courageous decision, accompanied by an album that's the hardcore equivalent of that.
elements.
White Russian Releases
2011 – When Trumpets Fade – Album page – Buy CD
2013 – A Gentleman Will Never Tell – Album Page – Buy 7″
2015 – Screw Houston – Album Page – Buy LP
2016 – All Rise – Album Page
2017 – Like Fighting Snakes – Album Page – Buy CD

Other Releases
2009 – S/T EP
Listen/Buy

Watch
https://youtu.be/c0L5sX035wU




Visit
Facebook