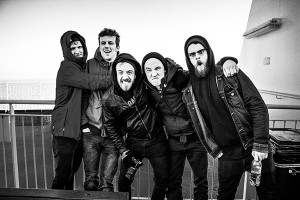 Bert Vandaele – Vocals
Maarten Thorrez – Drums
Bastiaan Breine – Guitar
Jonas Masschelein – Guitar
Tijs de Raeymaecker – Bass
Sundays started out in 2013. After being longtime friends, the five Belgian guys felt that the time was right to start a new band to put their hearts into. With a ton of experience in bands that are certainly not strangers to many music lover (Ignored, Amokachi, Omerta) the band quickly started playing shows.
Being five different people means having to deal with different influences and situations. Sundays take all the influences from music that move them. From conversations and everyday situations, and as a collective turns it into music. Music in a style that is compatible to bands as Verse, Modern Life Is War and Defeater.
Sundays' intense, melodic and heartfelt hardcore songs got them playing with bands like Trial, Against Me! and Landscapes, Strife and Crowbar, doing a UK tour with DRS, as well as playing the legendary Ieper winter edition.
After two years of hard work the time has arrived to release Wørds. A seven track EP that will be released digitally, on CD and 10″ vinyl by White Russian Records.
White Russian Releases
2015 – Wørds – Album page – Buy LP
Listen/Buy

Watch
Soon
Visit
Facebook