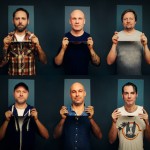 Perry Leenhouts
Erik van Vugt
Jochem "Skokie" Weemaes
Wouter "Woody" Verhulst
Michel "Mikk" Meeuwissen
Daan van Hooff
Travoltas formed in 1990, with founding members Perry Leenhouts and Vincent Koreman after the demise of their punkrockband Kriezus. With a sound that combines an energetic mix of Beach Boys and the Ramones the band released an impressive amount of singles, videos, compilations and albums – and toured all over the world -for often months on an end- and played every major festival you can imagine. With albums released on Roadrunner Records, records produced by Marky Ramone, sold out Beach Boys tribute shows and countless successful tour, the band disbanded in 2006 after their last show in Madrid, Spain.
In 2014 the band regrouped for three sold out concerts and a self released digital EP.
Recording for another full length album began in 2016 in drummer Verhult's "Van Sonic" studio and was mixed at the end of the year in Chicago by singer Leenhouts.
The result is another classic Travoltas album. Filled to the brim with with catchy poppunk tunes that make you wanna grab a surfboard and go out to enjoy the sun!
White Russian Releases
2017 – Until We Hit The Shore – Album page – Buy CD / LP
2017 – Baja California (20th Anniversary) – Album page – Buy LP
Other releases:
1996 – Kill! Kill! Kill! Sex! Sex! Sex! EP  – FTI Records
1997 – Waimea (Single) – GAP Records
1997 – Baja California – GAP Records
1998 – Modern World – MFS Weissmuller / Coldfront / Screaming Apple
1998 – I Want To Believe (Single) – MFS Weissmuller
2000 – Teenbeat – CNR Arcade / Coldfront
2000 – You Got What I Need (Single) – CNR Arcade
2000 – Pray For The Sun (Single) – CNR Arcade
2000 – From The Secret Vaults Of Sonny Weissmuller – MFS Weismuller
2001 – Club Nouveau – Roadrunner Records
2001 – Do It Again (Single) – Roadrunner Records
2001 – Sugar Ride (Single) – Roadrunner Records
2002 – Endless Summer – MFS Weissmuller / Fastmusic / Wynona Records
2002 – Step On The Gas – Nice Guy Records
2002 – The Singles Collection – Wynona Records
2003 – Travoltas Party! – Knock Knock Records
2004 – The High School Reunion – MFS Weismuller / Fastmusic / In&Out Records
2004 – All We Really Want (Is Rock 'n' Roll) (Single) – MFS Weissmuller
2014 – The Longest Wait (EP) – Self Released
Listen/Buy
Watch