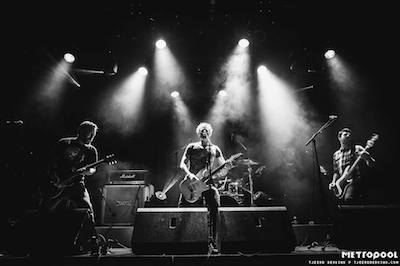 Koen Damman – Vocals / Guitar
Gijs van Hal – Guitar
Emiel Thoonen – Bass / Vocals
Riekus van Montfort – Drums / Vocals
Featuring current and former members of "Of No Avail", "Close Second", "Antillectual" and "Midnight Menace", these guys have been around long enough to know what keeps their hearts beating: straight forward, catchy, melodic punk rock with a grungy edge, firmly rooted in the 1990's. Sometimes even "very close to energetic stadium rock" (swnk.org).
After forming in 2012 and going through the motions of finding their sound and a solid line-up, Dead Giveaway played their first leg of shows in 2013, followed by their self released debut EP in 2014.
Debut full length "We Come In Pieces" was released in 2015 on White Russian Records and got the band shows with Ten Foot Pole, Undeclinable Ambuscase, Red City Radio and a festival slot on Jera On Air.
Follow up "Safety Off" is mixed and mastered by Jochem Jacobs (Split Second Sound / Textures) shows the band is ready to keep going and conquer any stage or festival.
White Russian Releases
2015 – We Come In Pieces – Album Page – Buy LP
2018 – Safety Off – Album Page – Buy CD
Listen/Buy

Video

Visit
Facebook