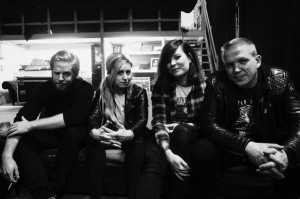 Fleur – Vocals / Guitar
Jeroen – Bass
Kelly – Guitar / Vocals
Thomas – Drums
Breda, a city in the south of the Netherlands is mainly known for its history and coziness. It's also the home of MARCH, the four piece punk rock act that has been rocking their way through Europe since their inception in 2013. MARCH may not have the same coziness as their hometown – after all they bring their songs, resonating personal freedom and positivity, with loud guitars, tight drums, a roaring bass and Fleur's raw vocals. As far as history goes, MARCH is writing that as we speak. After debuting in March 2014 -as a three piece- with the EP "In The Air", they didn't have to think twice and hopped in the van to play shows all over The Netherlands and throughout Europe, sharing stages with bands as Red City Radio and Smith Street Band. Always looking forward, MARCH decided it was time to bring in an extra guitar player to add melody, thickness and that could also support Fleur vocally. After some auditions they found the perfect match in the talented and very experienced Erik van Haaren. For the first time as a four piece, the band started writing material for what would become 2016's full length "Stay Put", to be released on White Russian Records once again, in June. The material still has the signature MARCH sound, but with a more melodic touch to it – without losing the rough edge. First single "Stand In Line", released on March 27th during a festival in their hometown shows the capacity of this band and is a great teaser for the upcoming album. With the new record coming, MARCH won't stand in line. They'll come rocking, charming and blasting their way from Breda to you.
White Russian Releases
2014 – In The Air – Album page
2016 – Stay Put – Album page – Buy CD/LP
Listen/Buy

Watch
[embedyt] http://www.youtube.com/watch?v=LKoRo2WhbIs[/embedyt]

Visit
Facebook
Official Site