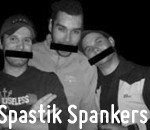 Spastik E – Bass / Vocals
Spastik B – Guitar / Vocals
Spastik W – Drums / Vocals
What's to say about a bunch of guys playing sucky music?
We know Black Sabbath recorded their self titled debut record in under six hours, something the Spankers easily matched, but there's one big difference between Sabbath and the Spankers.
Sabbath didn't write 15 songs in three rehearsals. The Spankers did.
The musical blend of Bouncing Souls, Descendents, The Queers, Screeching Weasel and Nerf Herder combined with lyrics about subjects most bands daren't sing of at all, made their debut album "Spank My Monkey And Call Me Daddy!" a cult record right from the start.
After your dad's been saying for years that he was one of the people who was there when the Beatles played in Blokker, while both you and me know that your dad was at that time spanking his monkey while looking at pictures of Jerney Kaagman, now you can earn a piece of history by buying their limited tape or cd.
White Russian Releases
2005 – Spank My Monkey And Call Me Daddy! (CD) – Album page – Buy CD
2005 – Spank My Monkey And Call Me Daddy! (MC) – Album page – Buy MC
2005 – Various Artists – Change The Station I – Album page
Check them out on
Facebook
Listen/Buy